The Squat Sponge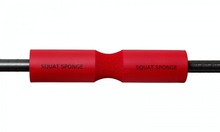 The Squat Sponge the advanced barbell pad. New item The Runner's Towel Scarf is great for golfer's tennis players, for anyone that sweats.
Squat Sponge is the advanced barbell pad that enhances and allows for proper form for squats and lunges. It provides additional comfort for the upper and lower back.
The Squat Sponge is comprised of molded thick foam of varying degrees of thickness and density with a grooved channel in the center for cradling the spine. The Squat Sponge has been designed by a guy who loves to do Squats.
It is time to stop fooling around with inferior products and buy the Squat Sponge. No matter how big and strong you are or plan on being, man, woman or beast, the Squat Sponge will engage your core to give a more effective squat workout.

The Squat Sponge fits firmly on the bar and does not move side to side like the inferior products that use Velcro in a Nylon shell. The Squat Sponge is designed with high-density thick foam, which provides supreme cushion (even with very heavy weights) where the body contacts the barbell to provide maximum cervical vertebrae (neck) support. It is simple, but clearly superior. Man, woman, or beast you need the Squat Sponge.

Typical barbell pads are 14" to 16" long in a nylon shell, have a 2.5 "diameter, and are just .5" thick. The Squat Sponge is 18" long, has a 3.5" diameter, and is 1.25" thick.
http://www.amazon.com/Squat-Sponge-diameter-Olympic-Barbell/dp/B001LRCGWG
To order the Squat Sponge you may use the link to Amazon.com or order bellow. We are sorry put due to an increase in shipping cost all orders outside of the United States will carry an extra shipping charge of 6USD that can be paid via PayPal to squatsponge888@yahoo.com.
---
---
Squat Sponge Belt

Contoured Design for Abdominal and Back Support
Super Light-Weight 4inch 6mm thickness Neoprene Foam Body Allows for Mobility
Velcro Support Strap Keeps the Belt Tight
Roller Buckle Makes Tightening Belt Easy
Comfortable Inner-Lining and Durable Outer-Body, Fully Washable
Two zippered compartments 5 ½ x 3 ½ x ½ holds I-phones, keys, money, inhaler, and other essentials
Worry about your Workout, not your stuff.
The information contained herein reflects only the opinion of its respective author and is in no way to be considered medical advice. Specific medical advice should be obtained from a licensed health care practitioner.